Featured Works
PMNCH – World Health Organization
Commissioned by the WHO and PMNCH (Partnership for Maternal, Newborn and Child Health), this collaborative project was inspired by the 'Pipli Art' from Orissa.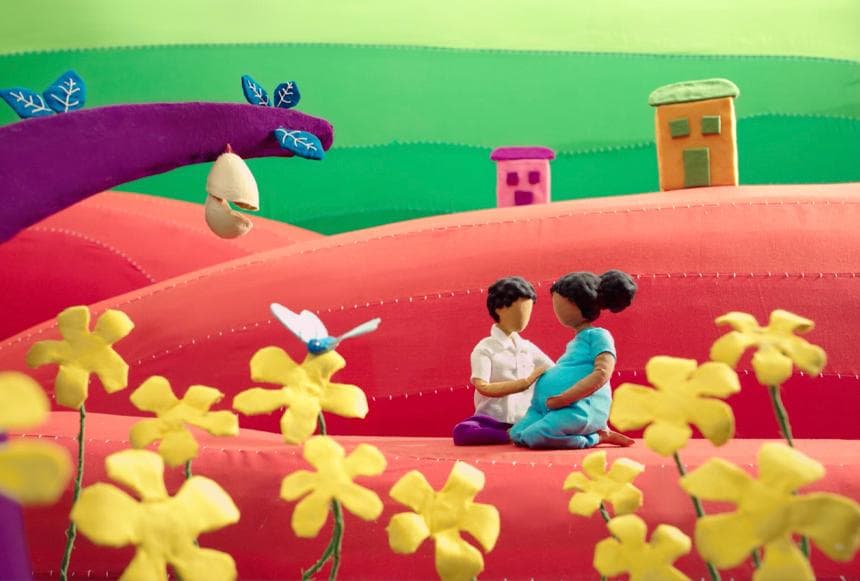 The task was to design a film which communicates the sensitive message in each section of the given logo, ultimately making the logo as the last frame of the film. Initial stages of the process were driven by various execution methods, including flat 2D animation. The ideation part involved making storyboards leading to various related situations. The color scheme and setting of the film is inspired from the logo itself. Since character design and colors were provided, the story had to be a foundation for making the film. With respect to the timeline from the client, the layouting of the storyboards as well as explorations was going on simultaneously. The style of execution was yet to be locked, hence the elements in the layouts were very minutely detailed. After the method of execution was cracked, the layouts were worked upon all over again to suit the simple style of the logo. A number of production methodologies were explored in order to get the organic feel and at the same time retaining the clean look of the logo. The sets and props were made with actual fabrics and layered with a number of materials to bring life into the film. The essence of the whole project was to portray the vision of the conference for women, children and adolescents; and hence the storyline involved showing the activities and development that is being looked forward to by the WHO.
The overall journey was helpful in understanding the sensitive subject of wellbeing of a section of the society and empathize and empower them. It was presented at the PMNCH 2018 held at Vigyan Bhavan in New Delhi where delegates from 85 countries met to envision a brighter future towards the wellbeing of women, children and the adolescent.
Client: World Health Organisation (WHO), PMNCH The Partnership for Maternal, Newborn & Child Health
Logo Design & Branding: Lopez Design
Director: Suresh Eriyat
Executive Producer: Nilima Suresh Eriyat
Director of Photography: Akhilesh Shrivastava
Music Director: Shri Sriram
Chorus Direction: K. C. Loy
Sound Engineer: Chester Misquitta
Asst. Sound Engineer: Sanketh Shetty
Sound Studio: Crastos, Pluginn
Editor: Abhishek Panikkar
Asst. Director: Pallav Saha
Compositing Lead: Priyansh Gupta, Rajib Mandal
Compositing Team: Amey Dhamanaskar, Nijin Nazeem, Chirag Swamy, Neeraja Dhorde, Nisha Nair
Additional Compositing: Studio Vsync
Gaffer: Rajesh
Camera Assistant: Anil
Creative Director: Rajib Mandal
2D Animation/Storyboard: Rajib Mandal
Post Supervisor: Jivan Gaikwad
Stop Motion Animators: Dhivyasimhon Sridharan, Sanjay Patkar
Production Design Lead: Prabjyot Kaur Sra, Neeraja Dhorde, Nisha Nair
Layout Design: Rajib Mandal, Prabjyot Kaur Sra, Neeraja Dhorde, Nisha Nair, Janhvi Penkar, Chirag Swamy, Amey Dhamanaskar, Nijin Nazeem
Art Direction Team: Priyansh Gupta, Chirag Swamy, Amey Dhamanaskar
Special Thanks to: Sandeep Shelar
Puppet Makers: Divyasimhon Sridharan, Sanjay Patkar, Amey Dhamanaskar, Chirag Swamy, Ajinkya Udmale, Gautami, Morvekar, Anup Chivhane, Satish Gautam
Interns: Akash Shinde, Sankhet Sutare, Sharvari Sankhe
Set Makers & Tailors: Vyas Vishwakarma, Jayram Gond, Triyogi Sharma, Raju, Mohd Aslam, Iliyas, Aslam Niyas
Chorus Vocalist: Pearl Raphael, Christina Andrew
Namo Music Academy: Keyaa, Feya, Prisha, Aryan, Krish, Dhyanam, Diva Mazumdar & Mishka Mazumdar (The solo voice in the end)