Featured Works
KROK International Animated Film Fest
KROK is the Ukrainian for "STEP" which symbolically means movement. It was the 25th year of the International KROK Film Festival and it had to be something special.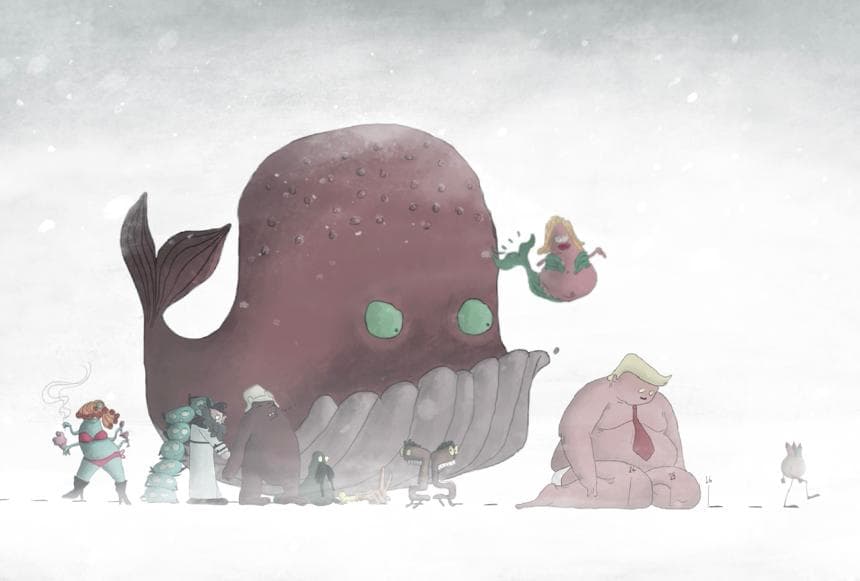 The client was a Russian Animation Film Festival which takes place aboard a ship. The festival never stands still even in the literal sense of these words, cruising in Ukraine and Russia by turns. From one hand, it creates a unique creative atmosphere within the ship, and from the other hand it enables the festival to show its programmes to the audiences in the towns along the route. The festival was to complete 25 years in 2018 and the signature film had to emphasize on the spirit of animation that it has been carrying since 25 years. The film was designed to depict the thought of what animators leave behind in their footprints are more than just films and how the festival is celebrating bringing characters, filmmakers, their adventures and stories to life, that too on a floating ship.

Design Process
Ukranian and Russian mythology, politics, social and economic elements were taken as an inspiration for designing the characters. They were further developed with the background study of the water bodies and objects. Their cultural importance was taken into consideration. After studying the cultural aspects of the Film festival and Russia, a few characters were chosen like the medusa, red fox, vodka, etc. The existing mascot design of the film festival was redesigned according to the storyline. As the process progressed, the character design was moulded according to its movements and possible actions. After the layouts were locked, look frames were designed considering various possibilities. As the number of characters was more in some sequences, it was very important to make each of them stand out. Various trial error methods were opted in terms of color, detailing, textures, backgrounds, etc. The final look of the film was set in a snowy geography and with no elements in the backgrounds, as the focus point was the KROK character followed by other creatures. The colorful and vibrant look was modified to desaturated monochromatic cold look and the animation was done frame by frame by the team members.

The film was then screened as a signature film on the KROK ship during the 12 day festival in September 2018 on the mark of completion of 25 years of KROK International Film Festival.
Client: KROK International Animated Films Festival
Production House: Studio Eeksaurus Pvt. Ltd.
Director: Suresh Eriyat
Producer: Nilima Suresh Eriyat
Creative Director: Nijin Nazeem
Music: Jolly Jose
Animation: Nijin Nazeem
Extra Animations/Cleanup: Neeraja Dhorde
Character Design: Neeraja Dhorde
Sound: Arun Crasto, Sanketh Shetty, Ashwin Poojary
Layouts/Backgrounds: Nijin Nazeem
Character Designs: Neeraja Dhorde
Editing/Compositing: Priyansh Gupta
Editing: Nisha Nair, Prabjyot Kaur Sra, Janhavi Penkar, Mohit Joshi
Team Eeksaurus: Kaushani Mujumder, Rajib Mandal, Jivan Gaikwad, Chirag Swamy, Amey Dhamnaskar, Pallav Saha, Archit Goel, Sneha Baliga, Tintu Philip, Satish Gautam