Featured Works
club psora
Brand Identity and digital design for a company that provides healing tools for people with skin conditions, globally.
club psora was founded by New York based filmmaker Miriam Thom, who started the venture after she was diagnosed with severe psoriasis. She started gathering resources to understand her condition and that is how her journey towards healing began. club psora positions itself as a sage, serving the global psoriasis and skin sensitive community in a unique way. It facilitates a roadmap for people with skin conditions through a number of resources like skin specialists, nutrition modules, learning materials, meditation, community pods and more.
An essential consideration for club psora was that the healing program is not just research driven but backed by the expertise of medical practitioners and nutritionists. This distinguishing factor placed the brand on the peripheries of niche specialized service providing and product innovation platform. The design process started with extensive research and experimentation about various aspects of psoriasis and people suffering from psoriasis. Since club psora was going to be much more than just a provider of support for the skin sensitive community, the identity design had to be very inclusive and familiar. It served as a community building platform for people to come together and go on a journey towards healing. Hence began the brand positioning process which eventually led to the derivation of identity design.

The brand key words:
- Empowering, Community, Kindness, Accessible, Listening, Unapologetic, Resilient, Taking Ownership, Nurturing, Optimistic, Advocating, Honest, Pragmatic, Navigating, Clarity, Collaborating, Honesty, Empathy, Collective Experiences, Proud, Aspiring, 360º, Committed, Lifestyle, #lookbeyondthesurface

Key Statement:
There is no lifestyle platform dedicated to psoriasis — and the process of healing psoriasis is just that: a lifestyle.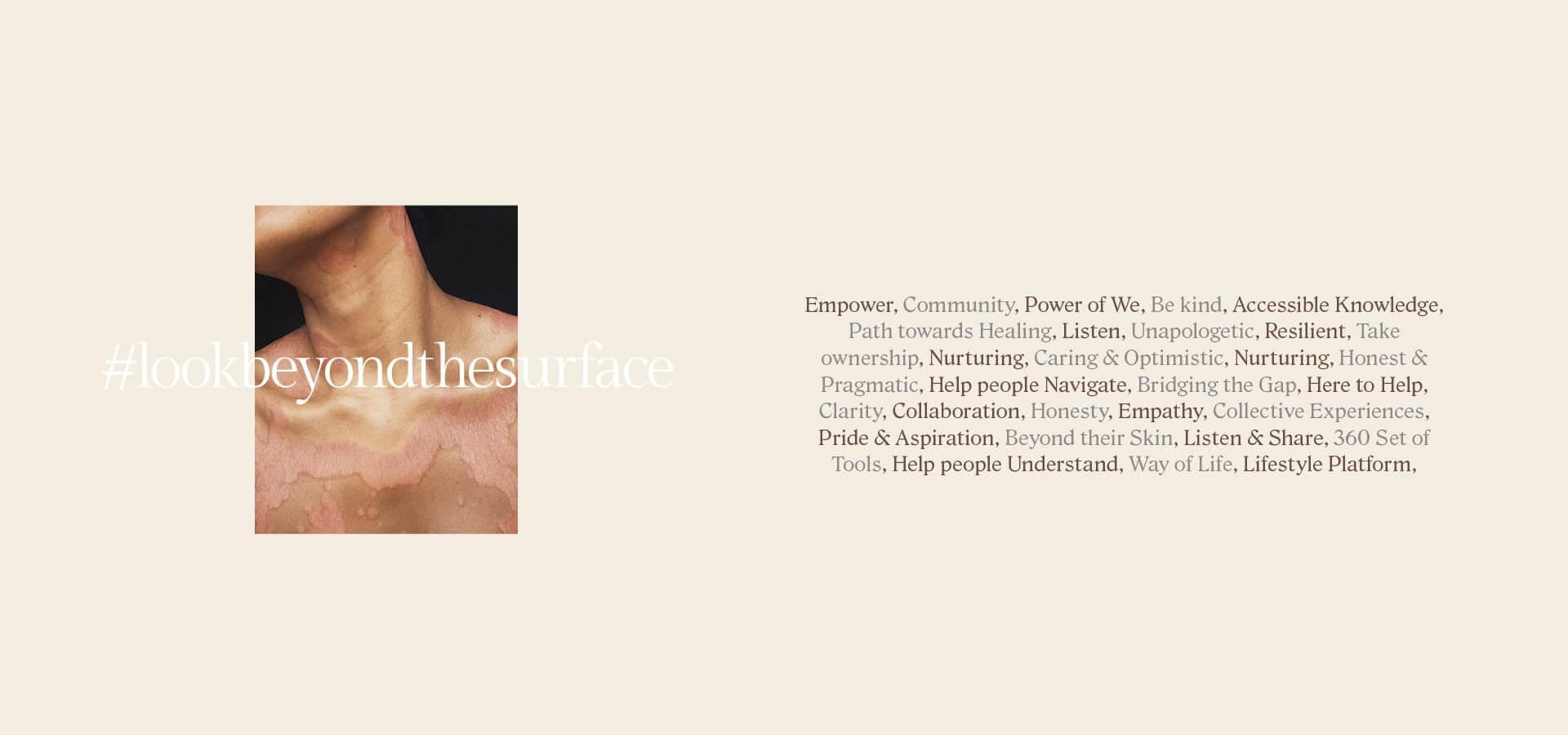 The visual identity is simple but communicates the brand values - inclusive, unapologetic yet down to earth. The earthy yet strong sense of visual representation was achieved with various experiments in color, type, photographs and illustrations.
The logo illustrated the brand name and communicated effectively - club psora is the school for skin and a club for healing.
A system of custom icons, animations and illustrations was created for the effective communication experience of the brand.